Thursday, February 18th, 2010
Design Village is proud to donate this hand Painted Floorcloth for the auction.
Weston Colonial Floorcloth #3 
(Circa 1740-1840 )
Center Design:
Floor stencil design from Weston, Massachusetts
Border Design :
The Dr. Wheeler Homestead, South Britain, Connecticut
Colors:
Midnight Blue, Yellow Ochre, Meadow Green, Brown Antique Glaze
Size: 33″ x48"
Price Group C – $30/sq. ft.
Price: $330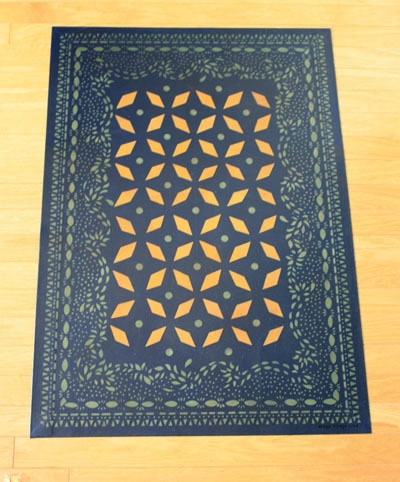 West Windsor-Plainsboro Regional School District, West Windsor, New Jersey
 
The High School North Interact Club presents an "Auction for Action" on February 19, 2010, at High School North, 7 p.m.
Some of the items to be auctioned off include: yoga lessons, floorcloth, Ace hardware basket, Klean King Cleaners gift card, and much more more!
This silent auction will donate all its procees to Enable Inc, an organization that provides a variety of educational, social, rehabilitative, and vocational services to children with or without established disability or children who are at biological or environmental risk for developmental delay. These services, which are child-centered, family-focused, and delivered in a developmental context, enable individuals to realize their potential. 
Click Here to to see entire collection of
Historic Collection Floorcloths
Custom Floorcloths Preview Gallery 1
Custom Floorcloths Preview Gallery 2
Visit our website to see complete collection of hand painted floorcloths, table runners, placemats, colonial and primitive lighting and gameboards.