Wednesday, September 29th, 2010
Ebenezer Bump floorcloth will begin it's journey to Wilmington, MA on Monday October 4th.
Ebenezer Bump Floorcloth #1
Size: 7′ x 9′
Colors: Pearl Essence, Black, Cranberry Red, Mocha, Brown Antique Glaze
About Ebenezer Bump floorcloth design:
Motif design is based on patterns found painted on the floor of  historic Ebenezer Waters House, West Sutton, Massachusetts. The motif was used in the bedchamber.
Border design is based on patterns  found painted on the floorcloth of historic Bump Tavern at the Farmers Museum, Cooperstown, New York (circa 1800)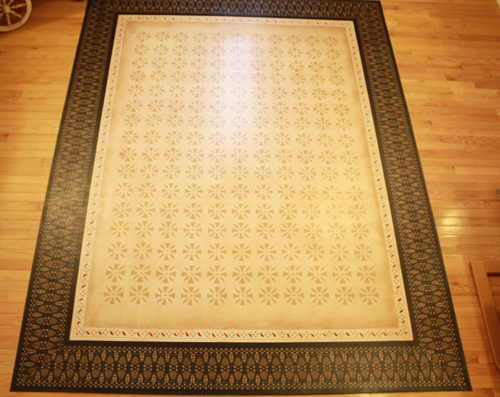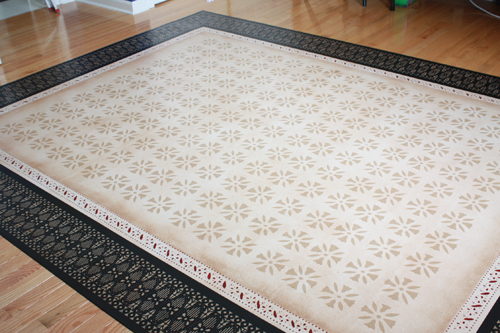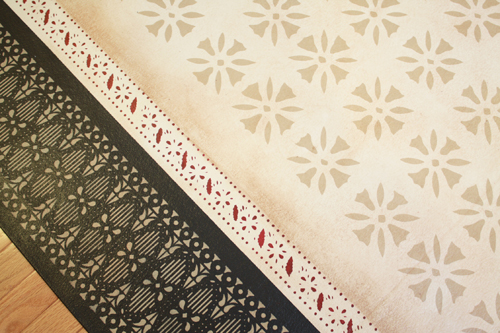 Click above pictures to see this floorcloth while in progress.
Floorcloths done in similar design can be seen on the link below in our preview gallery. After we complete the steciling for every custom floorcloth, we display the pictures in preview gallery.
Custom Floorcloths Preview Gallery 1 || Preview Gallery 2 || Preview Gallery 3
Click Here to to see entire collection of
Historic Collection Floorcloths
Visit our website to see complete collection
of hand painted floorcloths, table runners, placemats, colonial and primitive lighting and gameboards.