Thursday, September 23rd, 2010
Floorcloths … An ideal option for allergy sufferers Living space may never be completely free of allergens. If you are one of the millions of people who suffer from allergies, the key to relief is to control allergy triggers — allergens.  Installing hypoallergenic flooring can help control dust mites, mold, pollen, airborne chemicals, and other allergy–causing agents that can be found on floor surfaces. Obviously, hardwood, tile, or linoleum floors are ideal for people with allergies. An excellent choice to add pizzazz to a room with non-carpet flooring is a floorcloth. Unlike pile rugs and carpets, floorcloths do not collect dust or dust mites. Moreover, any dust on the floorcloth can be cleaned with minimal effort.
What is a floorcloth? - A floorcloth is a hand-painted canvas rug that has been treated to last a long time. The popularity of floorcloths dates back to the time when Europeans first settled in America . Floorcloths were in vogue throughout the 18th and 19th centuries but were gradually replaced by synthetic floor coverings. However, floorcloths have made a great comeback since the revival of interest in handcrafted goods for home decoration. Floorcloths not only protect the surface they cover but also add color, character, grace and style to a room's decor. Since floorcloths are handcrafted, no two floorcloths are identical, even if they have been made using the same designs. Each piece is individually crafted to suit one's tastes.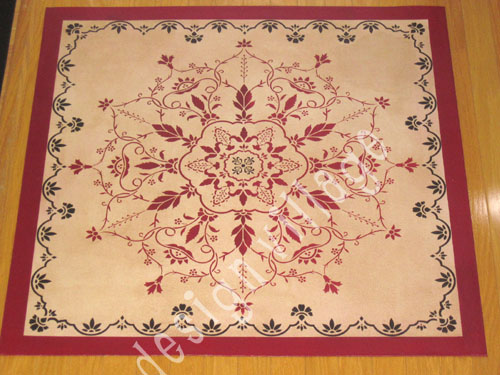 How durable is a Design Village floorcloth? – Our floorcloths are extremely durable and easy to maintain. Every floorcloth is made of heavy-duty canvas which is primed on both sides with top-quality acrylic gesso. After the gesso has dried, the floorcloth is given couple of base coats of paint. Then, the design is executed with water-based paints on one of the surfaces using stencils, blocks or by freehand. Between coats of paint, the floorcloth is left to dry thoroughly. All paint products we use for our floorcloths are water-based and non-toxic. After the final coat of paint has dried, it is given several layers of protective material. All the paints and protective materials used in making our floorcloths are made for flexible surfaces. This makes the floorcloth surface durable as well as scratch and water resistant. Therefore our floorcloths can be used in the high traffic areas of the house. Every Design Village floorcloth is constructed to provide years of pleasure and holds up to heavy use.
Is it easy to maintain floorcloths? – Design Village floorcloths are made to last many years when properly taken care of. Every floorcloth is given several protective coating of water- resistant material. A wipe with a damp sponge or paper towel is usually enough to clean it. Occasionally, the floorcloth may be cleaned with soapy water using a soft scrubbing sponge. This will dislodge any stubborn dirt.
At Design Village we specialize in Early American Historic Designs, English and French Country Designs, Traditional Quilt Designs, Contemporary Designs, and Asian Designs. After years of research Design Village has perfected the craft of making every floorcloth a work of art and family heirloom.