Construction of Design Village Floorcloths

1. We use #10 (15 oz.) – heavy duty double fill artist quality cotton canvas. This heavyweight canvas works very well for floorcloths and lays flat on the floor.
Note: Some floorcloths are not primed from the back. During the summer months when humidity is high, moisture can be trapped under the floorcloth and the unprimed side may buckle. Also, if water goes underneath the floorcloth, the paint might lift, staining the floorcloth from the top and bending the canvas beyond repair.
We do not use a sticky skid resistant coating on our floorcloths, because it picks up unwanted dirt, sand, and pet hair, gets tacky when wet, and is not removable. We do suggest using a very thin flat rubber mat.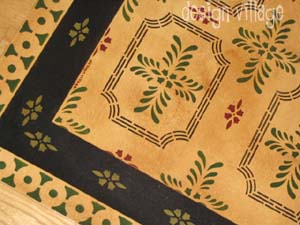 2. After streching the canvas we use Acrylic gesso to prime, which is recommended for paintings and flexible surfaces. The flexibility prevents the floorcloths from cracking with age. Design Village Floorcloths are double primed on the top surface and also primed with a water resistant layer on the back to improve durability.
Acrylic Gesso is not the same as the traditional gesso formula of white pigment and chalk mixed with hide glue. Although both are designed to create a primed surface for painting, the traditional gesso can only be used on a rigid support, such as a wood panel, since it is not flexible and will crack if applied to anything that moves or bends.
Commonly used primers are created for hard surfaces such as walls, wood, etc. Such primers will keep the cost down but will shorten the life of the floorcloth.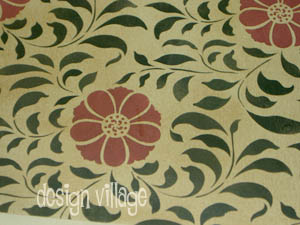 3. For the background color of the floorcloths, we use two or three coats of fade resistant paint which is made for flexible surfaces. This prevents the paint from cracking and improves the durability. To decorate the floorcloths we use stencils, stamps, sponges and other tools. Some of our stencils are unique and are hand-cut in our studio. All paint products we use for our floorcloths are water-based and non-toxic.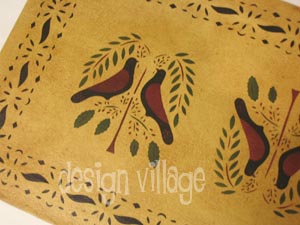 4. To protect the painted finish we use multiple coats of a special protective coating. It is permanent, non-yellowing, flexible, and water-resistant. It will not crack as the surface expands or contracts during temperature and humidity changes.
Polyurethane finishes used on cheaper floorcloths are designed to harden with age and tend to become brittle and therefore are not advisable for flexible surfaces.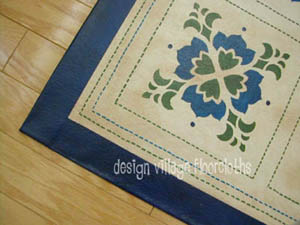 5. Our floorcloths have a two inch mitered hem. This helps to keep the floorcloth flat and prevents the edges from fraying and curling. It gives the floorcloth a flat, finished look.
We do not use bowling alley wax on our floorcloths. Commonly used on cheaper floorcloths, bowling alley wax makes floorcloth very slick on top for the first couple of weeks.