Monday, June 9th, 2008
About Game Boards: Board games have been played in most cultures and societies throughout history; some even pre-date literacy skill development in the earliest civilizations. A number of important historical sites, artifacts and documents exist which shed light on early board games.
Board games first became widely popular among the general population early in the 20th century when the rise of the middle class with disposable income and leisure time made them a receptive audience to such games. This popularity expanded after the Second World War, a period from which many classic board games date.
Many board games are now available as computer games, including the option to have the computer act as an opponent. The rise of computers has also led to a relative decline in the most complicated board games, as computers require less space, and the games don't have to be set up and cleared away.
Here are few samples of canvas game boards made by Design Village. These painted game boards can be use as a Game board, table runner, wall hanging or floorcloth.
Primtive Willow Gameboard #1 – Historic Collection
Willow motif by Moses Eaton, and Leavenworth border.
Size: 17″ X 38″
Colors Used: Pine Yellow, Black , Brown and black Antique Glaze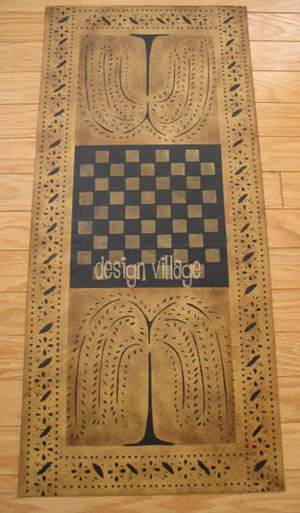 ………………………………………………………………………………………………………

Primtive Willow Gameboard #2 -Historic Collection
Willow motif by Moses Eaton, and border from Bump Tavern and Leavenworth House.
Size: 16″ X 54.5″
Colors Used: Spanish Red, Mocha, Black, black Antique Glaze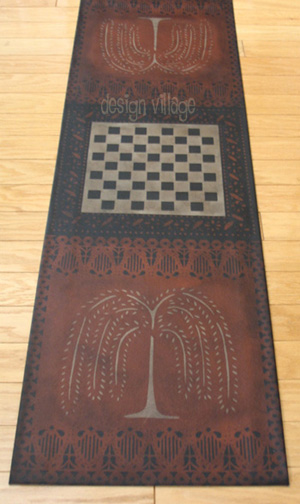 ………………………………………………………………………………………………………

Primtive Willow Gameboard Floorcloth #3 – Historic Collection
Willow motif by Moses Eaton, Bump Tavern Motif and Leavenworth border.
Size: 17″ X 53″
Colors Used: Pearl Essence, Black , Brown and black Antique Glaze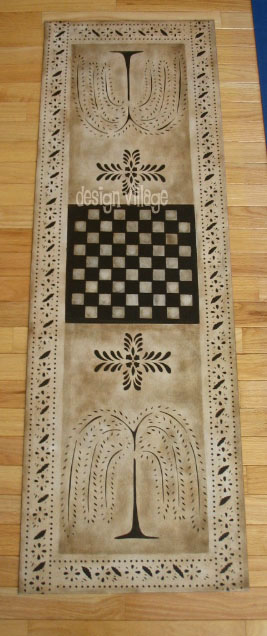 ………………………………………………………………………………………………………

Bird in bush – Gameboard / Floorcloth / Table Runner – Historic Collection
Wall Stencil from the Stencil House at Shelburne, Vermont and the border from Dr. Wheeler Homestead House, South Britain, Connecticut
Size: 13″ X 40″
Colors Used: Spanish Red, Mocha, Meadow Green, Black, black Antique Glaze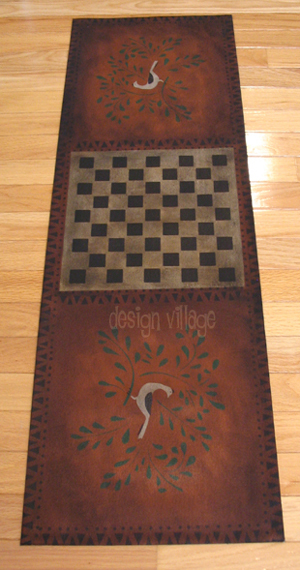 ………………………………………………………………………………………………………

Primitive Pennsylvania Dutch Backgamon Game Board – Primitive Gameboard Collection
Border stencil from Leavenworth Dennison House, Hinesburg, Vermont.
Size: 19″X 36″
Colors Used: Pine Yellow, Spanish Red, Black, Olive Green, and Brown Antique Glaze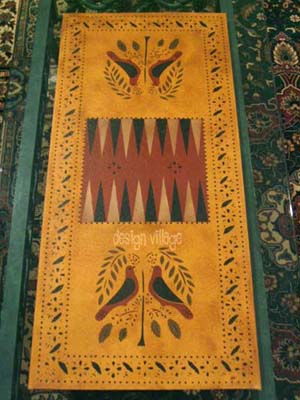 ………………………………………………………………………………………………………

Williamsburg Checkerboard Game Board – Primitive Game Board Collection
Historic wall Stencil from Williamsburg, VA and border stencil from Leavenworth Dennison House, Hinesburg, Vermont.
Size: 19″X 36″
Colors Used: Pine Yellow, Spanish Red, Black, Olive Green, and Brown Antique Glaze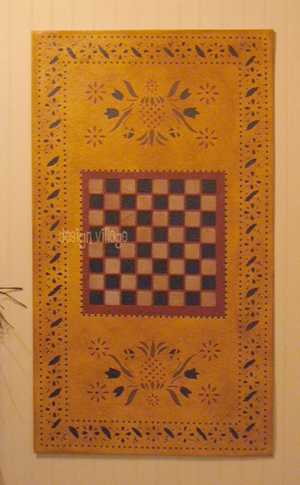 ………………………………………………………………………………………………………

Primitive Pennsylvania Dutch Checkerboard -Primitive Gameboard Collection
Border stencil from Leavenworth Dennison House, Hinesburg, Vermont.
Size: 19″X 36″
Colors Used: Pine Yellow, Spanish Red, Black, Olive Green, and Brown Antique Glaze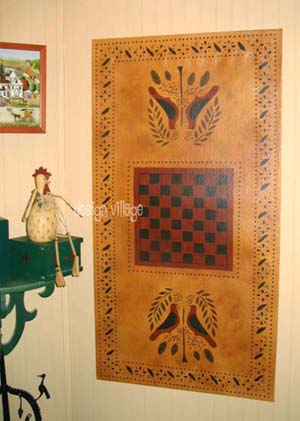 ………………………………………………………………………………………………………

Durant House Gameboard floorcloth - Historic Game Board Collection
Historic wall Stencil from Williamsburg, VA, and border stencil from Leavenworth Dennison House, Hinesburg, Vermont.
Size: 30″X 30″
Colors Used: Pine Yellow, Spanish Red, Black, Olive Green, and Brown Antique Glaze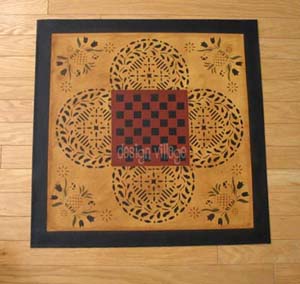 Click here to see game board on Design Village website at
http://www.floorcloth.net/gameboards.shtml