About Design Village Floorcloths
Floorcloth Artist Neelam Paralkar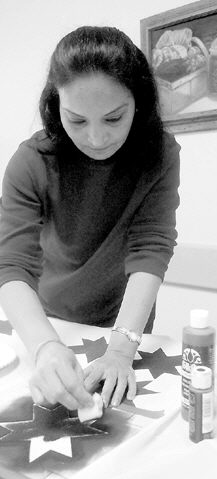 Born in Mumbai, India, surrounded by several artists including my brother I developed a creative spirit and a keen interest in various forms of arts and crafts. As a child, I traveled with my father on his business trips to visit ancient Indian architectural sites. After graduating from high school, I pursued a Bachelor in Fine Arts at Sophia Polytechnic, a school of Bombay University. I studied art history, advertising and drawing. My mother's dedication to Indian classical music led me to learn the sitar while in college. After graduation, I freelanced for children's publications for a few years and in 1984 moved to the United States.
While raising my two boys, I volunteered my artistic abilities for some non-profit organizations. When my younger son entered preschool, I studied computer graphics. After working for two years as a computer graphic designer, I went back to school to learn web design and computer programming. For two years, I worked for a large telecommunications corporation. Throughout my years of work with computers, I continued to paint on glass, wood, fabric, metal, walls and canvas as an emotional release.
My background allows me to work with a variety of stylistic influences from historic to modern. My computer graphics skills allow me to create several designs in multiple color combinations with ease. For any given setting, I can visualize the design and color combination necessary to create a pleasant floorcloth. My skills in web design enable me to continuously maintain Design Village website.
Design Village has given me an opportunity to channel my artistic passion to bring joy into people's homes.
How we Started making floorcloths?
In 1997, I was exploring options to give a unique look to my new living room. I searched for a rug with dark blue and yellow ocher in a wrought iron grill design, to no avail. After months of googling I stumbled upon floorcloths. A hand-painted canvas rug - century-old European art which would allow me to create the perfect combination of color and design to match my room's decor. I was intrigued by this concept of a functional art for the floor.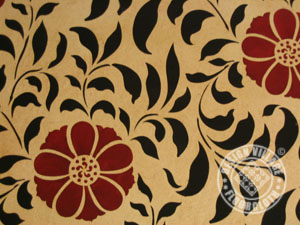 After I made my first beautiful floorcloth, I became passionate about the art. With encouragement from family and friends, I made a few more for other rooms of the house. After passionately studying the craft, I perfected my technique to produce durable, easy to maintain floorcloths with the desired artistic appeal.
In 2001, losing the job as a web designer gave me an opportunity to introduce floorcloths. I launched www.floorcloth.net, as the online store for Design Village.
Design Village studio is located near Princeton, NJ. Studio is not open to the public, sorry!  
I take pride in creating hundreds of unique floorcloths and bring joy to my customers. I am grateful to them for their love of my craft, beautiful testimonials, repeat orders and kind referrals.