Floorcloths :: Early American Historic Designs
Historic Designs
This collection depicts stencil patterns from floors and walls of Historic homes Circa 1740-1840 from New England area - Cutler House, May House, Edward Durant House, Kilburn House, Bump Tavern, Way Side Inn to name a few. The floorcloths are identified by the name of the house where the pattern originated. We have designed and reproduced historic floorcloths based on the work of master artists like Moses Eaton.
Stencils from Historic Homes
Stenciling is an art form found in Early American home décor. Today, it is back. It's symbolism is prevalent in various motifs. The swag and pendant, known as the liberty bell was a patriotic emblem of post-Revolutionary America. Of those derived from nature, the flower baskets represented friendship; the oak leaf - strength and loyalty; the willow - everlasting life; the pineapple -hospitality and heart represents love and happiness.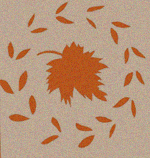 History of Floorcloths
The painted canvas rugs also known as floorcloths or oylcloth were in wide use during most of the eighteenth and nineteenth centuries. The floorcloth was initially viewed as an affordable alternative to the grander woven carpets of the wealthy, or as an imitation of marble, tile, and inlaid parquet, but came to be valued for its own sake. The arrival of linoleum flooring in the US slowed the interest in hand made floorcloths and by the early 1920s they were virtually gone.
Browse our Gallery
Cutler House Floorcloth with Harlequin

Colors Used: Tan, Cranberry Red, Pearl Essence, Moss Green, Meadow Green and Brown Antique Glaze

Humphries Floorcloth #5

Colors Used: Black*, Cranberry Red, Tan and Brown Antique Glaze

Norwich Floorcloth

Colors Used: Cream Silk*, Spanish Red, Meadow Green, and Brown Antique Glaze

Rosedale Floorcloth

Authentic floor motif from May House, Woodstock,Connecticut and the border from Ebenezer Waters house, West Sutton, Massachusetts.

Colors Used: Tan, Cranberry Red, Black, Brown Antique Glaze

Herringbone Floorcloth

Colors Used: Cream Silk*, Black, and Brown Antique Glaze




Cutler House Floorcloth

Border stencil from Edward Cutler House, Warren, Rhode Island

Colors Used: Pine Yellow, Colonial Red, Black, and Brown Antique Glaze

Benjamin Pierce Homestead Floorcloth

Border stencil from Governor Benjamin Pierce Homestead Hillsborough, New Hampshire

Colors Used: Moss Green*, Navy Blue, and Brown Antique Glaze

Jackson Swann House Floorcloth 1

Border stencil from Jackson Swann House Scituate, Rhode Island and corner and center motifs from Edward Durant House, Newton, Massachusetts

Colors Used: Pine Yellow, Cranberry Red, Williamsburg Blue, Black and Brown Antique Glaze

Jackson Swann House Floorcloth 2

Border stencil from Jackson Swann House Scituate, Rhode Island and corner and center motifs from Isaac Buck House Hanover, Massachusetts

Colors Used: Dove Gray*, Cranberry Red, Williamsburg Blue, Black and Brown Antique Glaze

Shaker Tree of Life Floorcloth

The original Shaker design of the Tree of Life was created by Hannah Cahoon in 1854. The Tree of Life became a symbol of the Shakers' unity. Border stencil from the Bump Tavern at the Farmer's Museum in Cooperstown, NY.

Border - Bump Tavern at the Farmer's Museum in Cooperstown, NY.

Colors Used: Pine Yellow, Cranberry Red, Spanish Red, Black, Meadow Green, Brown Antique Glaze

Shaker Tree of Life Floorcloth with Ebenezer border

The original Shaker design of the Tree of Life was created by Hannah Cahoon in 1854. The Tree of Life became a symbol of the Shakers' unity.

Colors Used: Pine Yellow, Cranberry Red, Spanish Red, Meadow Green, Oakland Green, Brown and Brown Antique Glaze

Primitive Willow with Ebenezer border Floorcloth

Colors Used: Pine Yellow, Black, Yellow Ocher and Brown Antique Glaze

Willow Tree Floorcloth - Moses Eaton Collection

Willow stencil from Peterboro, New Hampshire, and the border stencil from Leavenworth Dennison House, Hinesburg, Vermont and the Bump Tavern at the Farmer's Museum in Cooperstown, NY.

Colors Used: Pine Yellow, Spanish Red, Black, Yellow Ochre and Brown Antique Glaze

Blue Willow Floorcloth

Willow stencil from Peterboro, New Hampshire, and the border stencil from the Bump Tavern at the Farmer's Museum in Cooperstown, NY.

Colors Used: Pearl Essence, Midnight Blue, Brown Antique Glaze

Early American Flowers Floorcloth 1

The flower motif is from Capt. Noah Wood House South Woodstock, Vermont, corner motif from Ebenezer Waters house, West Sutton, Massachusetts. border form Daniel Kingsbury house, Brookfield, Vermont

Colors Used: Barnyard Red, Yellow Ochre, Black, Meadow Green, and Brown Antique Glaze

Early American Flowers Floorcloth 2

Colors Used: Pine Yellow, Maroon, Meadow Green, Black, Brown, and Brown Antique Glaze

Early American Flowers Floorcloth 3 - Navy

Colors Used: Navy Blue, Meadow Green, Colonial Red, Yellow Ochre and Brown Antique Glaze

Early American Flowers Floorcloth 4 - Spanish Red

The flower motif is from Capt. Noah Wood House South Woodstock, Vermont, corner motif from Ebenezer Waters house, West Sutton, Massachusetts. Border stencil from Leavenworth Dennison House, Hinesburg, Vermont

Colors Used: Spanish Red, Meadow Green, Black, Yellow Ocher and Brown Antique Glaze

Early American Flowers Floorcloth 5 - Pine Yellow

Colors Used: Pine Yellow, Spanish Red, Meadow Green, Black and Brown Antique Glaze

Sage Heart- Leavenworth Floorcloth

Authentic wall stencil from Sage House, South Sandisfield, Massachusetts. Border stencil from Leavenworth Dennison House, Hinesburg, Vermont

Colors Used: Bennington Tan* , Black, Cranberry Red, Meadow Green, Brown Antique Glaze

Sage Heart- Leavenworth Floorcloth #2 Pine Yellow

Authentic wall stencil from Sage House, South Sandisfield, Massachusetts. Border stencil from Leavenworth Dennison House, Hinesburg, Vermont

Colors Used: Pine Yellow , Black, Cranberry Red, Brown Antique Glaze

Sage House Floorcloth

Authentic wall stencils from Sage House, South Sandisfield, Massachusetts

Colors Used: Yellow Ocher*, Black, Cranberry Red, Brown Antique Glaze

Sage - Wheeler Homestead Floorcloth

Authentic wall stencil from Sage House, South Sandisfield, Massachusetts. Border stencil from South Britain, Connecticut

Colors Used: Pine Yellow, Cranberry Red and Brown Antique Glaze

Ashville Floorcloth

Border stencil from Governor Benjamin Pierce Homestead Hillsborough, New Hampshire and motif is from Sage House, South Sandisfield, Massachusetts

Colors Used: Pearl Essence, Spanish Red, Black, Brown Antique Glaze

Humphries House Floorcloth 1

Dorchester, Massachusetts

Colors Used: Pearl Essence, Yellow Ocher, Black, Spanish Red, Brown Antique Glaze

Humphries House Floorcloth 2 with May House Border

Dorchester, Massachusetts

Colors Used: Pine Yellow, Williamsburg Blue, Black, Brown Antique Glaze

Humphries House Floorcloth 3

Dorchester, Massachusetts

Colors Used: Pine Yellow, Dove Gray, Cranberry Red, Black, Brown Antique Glaze

Humphries House Floorcloth 4

Dorchester, Massachusetts

Pine Yellow, Tan, Cranberry Red, Black, Brown Antique Glaze

Isaac Buck House Floorcloth 1

Floor stencil from Hanover, Massachusetts

Colors Used: Pine Yellow, Maroon, Black and Brown Antique Glaze

Isaac Buck House Floorcloth 2- with PA Dutch border

Floor stencil from Hanover, Massachusetts

Colors Used: Cream Silk*, Cranberry Red, Navy Blue, Meadow Green, and Brown Antique Glaze

Isaac Buck - Kingsbury Floorcloth 3 - Pine Yellow

Authentic wall border stencil from Vermont and floor stencil from Isaac Buck House Hanover, Massachusetts

Colors Used: Pine Yellow, Black, Spanish Red, Brown Antique Glaze

Isaac Buck - Kingsbury Floorcloth 4 - Navy Blue

Authentic wall border stencil from Vermont and floor stencil from Isaac Buck House Hanover, Massachusetts

Colors Used: Navy Blue*, Maroon, Beige, Brown Antique Glaze

Isaac Buck -Kingsbury Floorcloth 5- Dove Gray

Authentic wall border stencil from Sage House, South Sandisfield and floor stencil from Isaac Buck House Hanover, Massachusetts

Colors Used: Dove Gray*, Cranberry Red, Black, Brown Antique Glaze

Isaac Buck - Sage House Floorcloth 6

Authentic wall border stencil from Sage House, South Sandisfield and floor stencil from Isaac Buck House Hanover, Massachusetts

Colors Used: Bennington Tan*, Cranberry Red, Meadow Green, Sage Green, Brown Antique Glaze

Isaac Buck - Sage House Floorcloth 6

Authentic wall border stencil from Sage House, South Sandisfield and floor stencil from Isaac Buck House Hanover, Massachusetts

Colors Used: Pearl Essence, Spanish Red, Tan, Black, Brown Antique Glaze

Isaac Buck Floorcloth- #7

Authentic wall border stencil from Sage House, South Sandisfield and floor stencil from Isaac Buck House Hanover, Massachusetts

Colors Used: Pearl Essence, Black, Brown Antique Glaze

Williamsburg Floorcloth

Colors Used: Pine Yellow, Spanish Red, Terra Cotta, Meadow Green, and Brown Antique Glaze

Compass Rose Floorcloth - Marbleized effect

Also known as "Mariner Compass" found on painted floors in Norwell, Massachusetts

Colors Used: Pearl Essence, Black and Brown Antique Glaze

Price: Group C - Minimum width 4'

Mariners Compass Floorcloth #2

Also known as "Compass Rose" found on painted floors in Norwell, Massachusetts

Colors Used: Pine Yellow, Black, Cranberry and Brown Antique Glaze

Price: Group D - Minimum width 5'

Bump Tavern Floorcloth 1

This design comes from a painted floor at the Bump Tavern at the Farmer's Museum in Cooperstown, NY.

Colors Used: Pine Yellow, Red, Navy Blue, Brown Antique Glaze

Bump Tavern Floorcloth 2

This design comes from a painted floor at the Bump Tavern at the Farmer's Museum in Cooperstown, NY.

Colors Used: Spanish Red, Yellow Ocher and Amish Blue, Brown Antique Glaze

Bump Tavern Floorcloth 3

This design comes from a painted floor at the Bump Tavern at the Farmer's Museum in Cooperstown, NY.

Colors Used: Pine Yellow and Amish Blue, Cranberry Red and Brown Antique Glaze

Bump Tavern Floorcloth 4

This design comes from a painted floor at the Bump Tavern at the Farmer's Museum in Cooperstown, NY

Colors Used: Midnight Blue*, Tan, Pink, and Brown Antique Glaze

Bump Tavern Floorcloth 5

This design comes from a painted floor at the Bump Tavern at the Farmer's Museum in Cooperstown, NY.

Colors Used: Pine Yellow, Meadow Green, Cranberry, Black, and Brown Antique Glaze

Bump Tavern Floorcloth 6

This design comes from a painted floor at the Bump Tavern at the Farmer's Museum in Cooperstown, NY.

Colors Used: Pearl Essence, Black, Mocha, beige, Cranberry Red, Brown Antique Glaze

Bump Tavern Floorcloth 7 - Dove Gray

This design comes from a painted floor at the Bump Tavern at the Farmer's Museum in Cooperstown, NY.

Colors Used: Dove Gray*, Cranberry Red, Black, Brown Antique Glaze

Bump Tavern Floorcloth 8

This design comes from a painted floor at the Bump Tavern at the Farmer's Museum in Cooperstown, NY.

Colors Used: Pine Yellow, Cranberry, Williamsburg Blue, Black, Brown Antique Glaze

Bump Tavern Floorcloth 9

This design comes from a painted floor at the Bump Tavern at the Farmer's Museum in Cooperstown, NY.

Colors Used: Barnyard Red, Black Mocha, Brown Antique Glaze

Cooperstown Floorcloth

Border and motif from Bump Tavern at the Farmer's Museum in Cooperstown, NY.

Colors Used: Pine Yellow, Cranberry Red, Brown Antique Glaze

Early American Quilt Floorcloth - Eaton Moses Collection

Fancy Maine Sunflower motif from Leach-Overlock house, Alewive, Maine. Other Inside motif from Berry house, Pittsfield, New Hampshire. corner motif from Ebenezer Waters house, West Sutton, Massachusetts. Border form Daniel Kingsbury house, Brookfield, Vermont

Colors Used: Pine Yellow, Navy blue, Colonial Red, Meadow Green, Brown Antique Glaze

May House Floor cloth #1

Woodstock, Connecticut

Colors Used: Pine Yellow, Black, Brown Antique Glaze

May House Floor cloth #2

Woodstock, Connecticut

Colors Used: Barnyard Red, Yellow Ocher and brown antique glaze

May House Floor cloth #3

Woodstock, Connecticut

Colors Used: Pine Yellow, Cranberry Red, Midnight Blue and brown antique glaze

May House Floor cloth #4

Woodstock, Connecticut

Colors Used: Pearl Essence, Maroon, and brown antique glaze

May House Floor cloth #5

Woodstock, Connecticut

Colors Used: Midnight Blue*, Colonial Red, Yellow Ocher, and brown antique glaze

May House Floor cloth #6

Woodstock, Connecticut

Colors Used: Pine Yellow, Maroon, Meadow Green, Brown Antique Glaze

May House Floor cloth #7

Woodstock, Connecticut

Colors Used: Pearl Essence, Pine Yellow, Cranberry Red, Meadow Green, Brown and Black Antique Glaze

May House Floor cloth #8

Woodstock, Connecticut

Colors Used: Pearl Essence, Midnight Blue, and brown antique glaze

May House Floor cloth #9

Woodstock, Connecticut

Colors Used: Cream Silk*, Cranberry, Meadow Green, and brown antique glaze

Shaker Tree of Life Floorcloth

The original Shaker design of the Tree of Life was created by Hannah Cahoon in 1854. The Tree of Life became a symbol of the Shakers' unity.

Colors Used: Dove Gray*, Cranberry Red, Spanish Red, Black, Meadow Green, Brown Antique Glaze