Design Process to Order a Floorcloth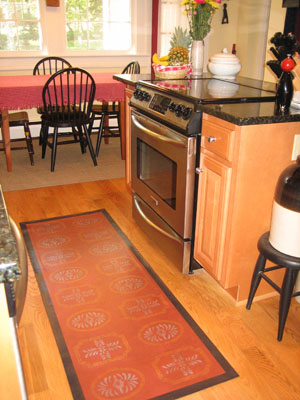 Design Village offers a wide range of designs, any of which can be made in the size you require and in the colors of your choice. Alternatively, we can create a one of a kind floorcloth design for you based upon your liking.
In order to customize your floorcloth, study the space where you plan to put the floorcloth. Note the colors of your floor, walls, curtains, furniture, paintings and accessories if any, colors in adjacent rooms, etc. Send us some photographs of the room, wall color sample swatches (available at most home improvement stores) or wallpaper sample, fabric samples of curtains or valance. Only photographs are not adequate since some do not show accurate colors. Decide the size of floorcloth you need. For dining area be sure to leave enough space for the chairs to move easily. Mail all the above information with $100.00 non-refundable design fee, which is credited towards your purchase.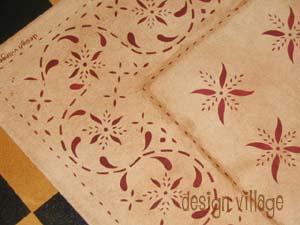 After receiving the information we shall call to discuss the details. This is very important since each custom floorcloth is unique. We shall prepare a mock up of your floorcloth. After you approve the mock up we shall work on floorcloth. Depending upon the studio schedule, it may take 4-6 weeks to complete your floorcloth. Once the stenciling is done you may view the progress of your floorcloth in the preview gallery.
Visit our Order page to view the standard colors. However, we offer unlimited custom colors.